Is Conti Ransomware on a roll?
Posted on 7th Jul, 2021 | By Priya Ravindran
The Conti group is associated with three vulnerabilities. If these had taken precedence in the CVE patching priority, the series of Conti attacks could have been avoided.
CVE-2020-0796 and CVE-2018-13379 were warned against in CSW's Ransomware Reports published in February and May 2021.
Let us take a look at the different recent incidents in which the Conti group has been involved.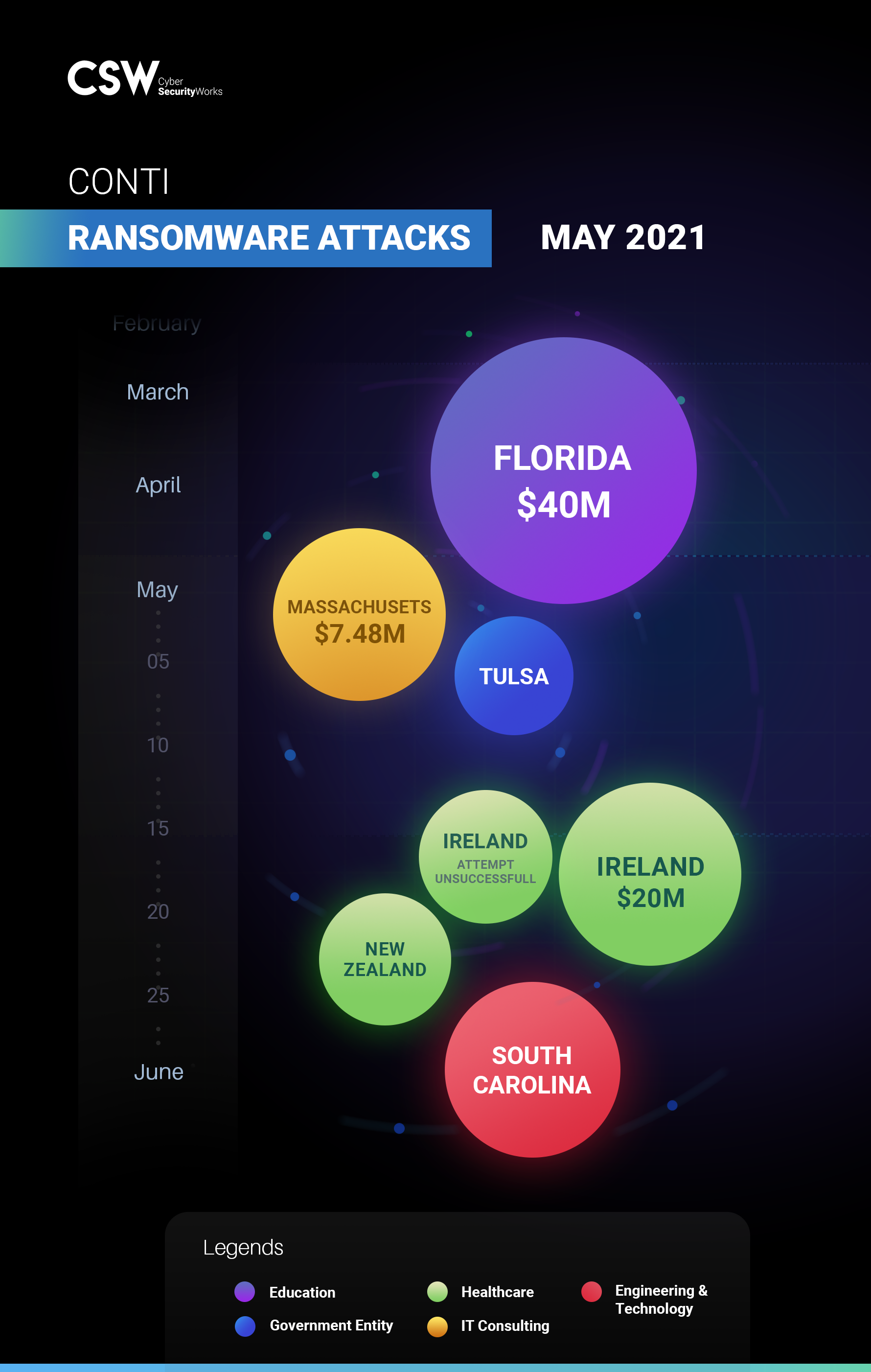 The Ireland HSE incident shook the health industry, closely following in the wake of the Oil industry's Colonial Pipeline attack; IT systems had to be shut down, leading to chaos in rendering regular health services. Exagrid paid a $2.6M ransom in the form of 50.75 Bitcoins for a decryption tool and to prevent data from being leaked. In more recent updates in the last week of June 2021, Conti claimed responsibility for an attack on the city of Tulsa in early May, leaking over 18,000 city files on the Dark Web. Three Canadian companies - an Internet provider and an engineering firm, both from Ontario, and a Quebec-based insurance broker - have also fallen victim to the group, according to Conti's website.

Conti - A Cheat Sheet
We analyzed three CVEs being exploited by the Conti group - CVE-2020-0796,
CVE-2018-13374, CVE-2018-13379, and here is our analysis about them -
CVE-2020-0796 is a critical RCE/PE vulnerability, with a severity score of 10. This vulnerability also goes by the names CoronaBlue and SMBGhost, and was one of the top exploited vulnerabilities of 2020.

CVE-2018-13379 is a critical RCE vulnerability that allows for unauthenticated attacks, and has a severity score of 9.8.

CVE-2018-13374 is a high-rated vulnerability, with a severity score of 8.8 and can be exploited to compromise web applications.

CWE Weakness Categories

CVE-2020-0796 is categorised under a weakness leading to improper input validation, CWE-20

CVE-2018-13379 falls under a weakness leading to improper limitation of a pathname to a restricted directory, CWE-22

CVE-2018-13374 belongs to CWE-732 that leads to assignment of incorrect permissions for critical resources

CVE-2020-0796 is present in two Microsoft products - Windows 10 and Windows Server 2016, while the other two exist in Fortinet's FortiOS.

A patch for CVE-2020-0796 has been available since March 2020, while vendors recommend upgrading to the latest version of FortiOS for the other two vulnerabilities.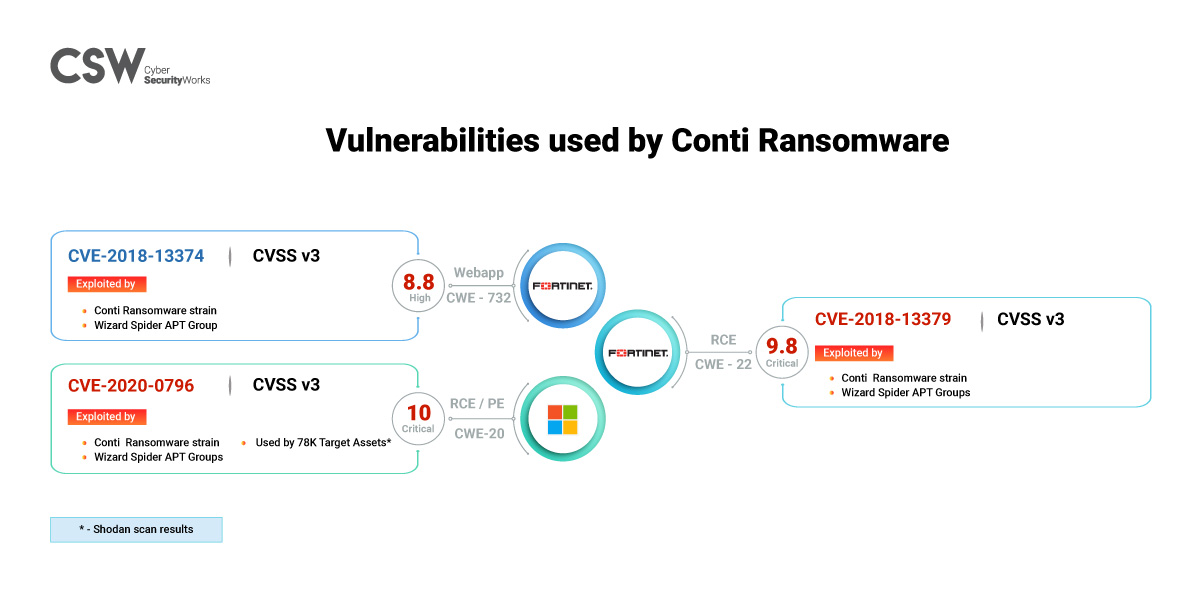 It is widely believed that Russia's Wizard Spider Advanced Persistent Threat (APT) group uses the Conti ransomware in its attacks.
Global Exposure
A Shodan analysis of CVE-2020-0796 brings up over 75,000 deployments, mainly focused in Taiwan and Japan. Windows 10 Home is the most widely used OS susceptible to CVE-2020-0796 exploits.
There are over 60,000 deployments of FortiOS worldwide, according to Shodan, with the US ranking first on the list.
Attack Methodology
Looking at multiple attacks involving Conti ransomware, we have understood the following to be their overall attack methodology.
Scout for weak entry points in devices and infect them with IcedID payload, followed by BazarLoader malware.

Use batch files to disable security tools through the created backdoor.

Deploy Cobalt Strike beacon to gather confidential details

Scan to identify open ports

Utilize a combination of Remote Desktop Protocol (RDP), PsExec and Server Message Block (SMB) to worm its way laterally within the network

Exfiltrate data to cloud storage through command line tools like RClone

Stealthily deploy Cobalt Strike beacon to attached devices

Execute malicious code in memory across all active systems

Delete shadow copy using Windows Management Instrumentation (WMI)

Ransomware continues ploughing through until detected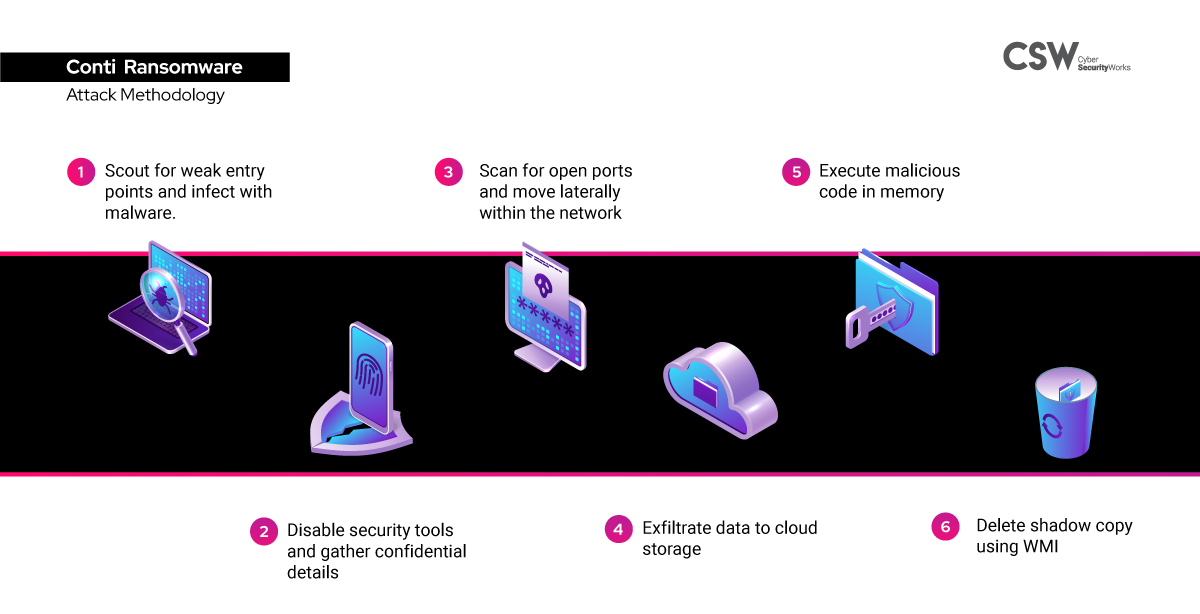 Coincidentally, on June 1, 2021, the FBI sent out a warning regarding New Zealand based Mega cloud storage being used by ransomware groups like Conti, for data storage.
MITRE ATT&CK Mapping
Indicators of Compromise
SHA 256:
d3c75c5bc4ae087d547bd722bd84478ee6baf8c3355b930f26cc19777cd39d4c
f092b985b75a702c784f0936ce892595b91d025b26f3387a712b76dcc3a4bc81
e64e350861b86d4e05668bc25e6c952880f6b39ca921496ccce1487dbf6acab6
707b752f6bd89d4f97d08602d0546a56d27acfe00e6d5df2a2cb67c5e2eeee30
03b9c7a3b73f15dfc2dcb0b74f3e971fdda7d1d1e2010c6d1861043f90a2fecd
b524ed1cc22253f09d56f54d8ded4566b63352ff739f58de961f8a5bebb0fad9
1ef1ff8b1e81815d13bdd293554ddf8b3e57490dd3ef4add7c2837ddc67f9c24
c14f8bc656284715516f26935afe487a1d584f56ffabbcb98f2974f6ca6cd3a4
e16fea1b8874cc6b26e7e2df9697f03f86efa82247bb3b2922f1d05052dbcbb4
5d8a701110d58ab7c1aa8bae6bc9d5358b8cd508115891320e6af6c68f3bbd74
ebeca2df24a55c629cf0ce0d4b703ed632819d8ac101b1b930ec666760036124
D236d64b7bf9510ea1746d10a4c164a2ef2c724cc62b2bca91d72bdf24821e40
2579148e5f020145007ac0dc1be478190137d7915e6fbca2c787b55dbec1d370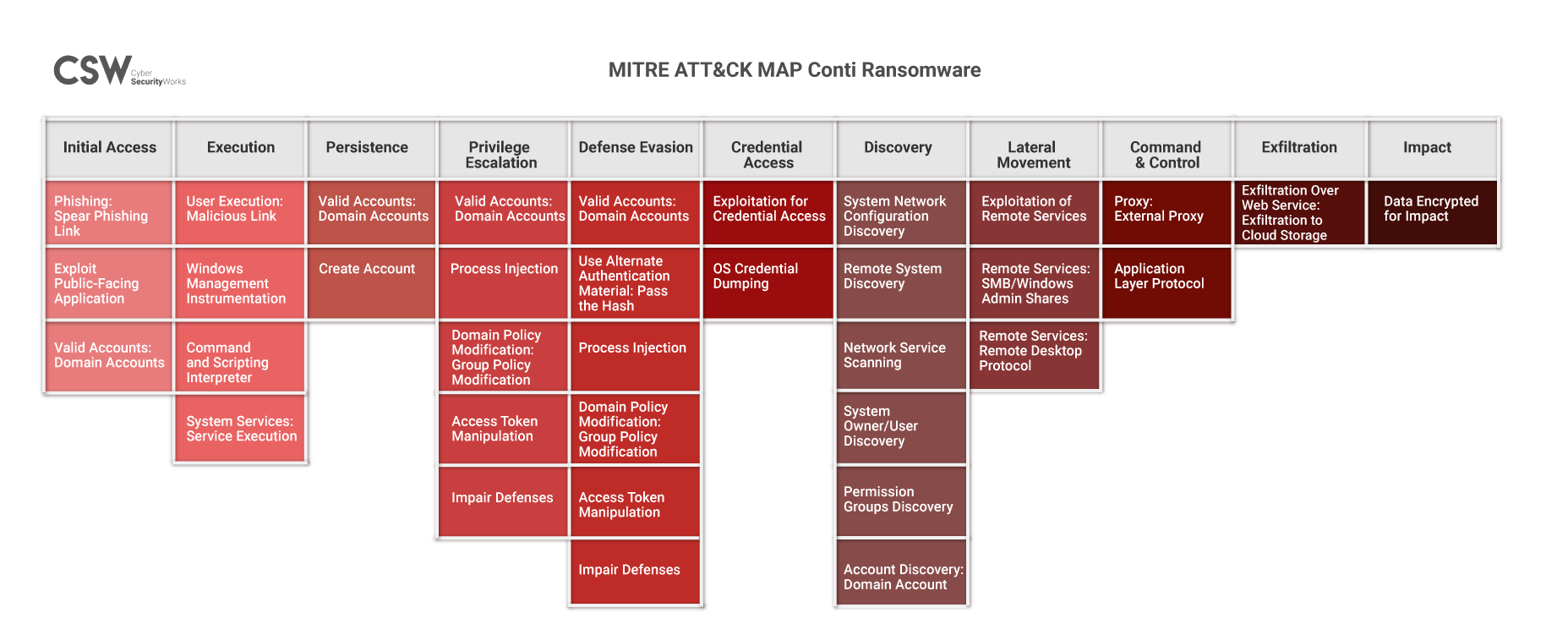 A thorough ransomware analysis is the need of the hour
The vulnerabilities CVE-2020-0796 and CVE-2018-13379 are currently trending, although they were discovered more than a year back. This is a clear indication of the importance of patching older vulnerabilities and not just the newly discovered high-severity ones. In fact, as highlighted in CSW's Ransomware Report, vulnerabilities that were discovered in 2020 and earlier accounted for 97% of the total vulnerability count (260) as of March 2021.
The recent series of attacks is an example of how attackers might be taking it slow, waiting for bigger opportunities leading to crippling disruption. Adopting a risk-based approach and prioritizing critical vulnerabilities based on threat context is the need of the hour.
Reach out to CSW for assistance with vulnerability analysis and prioritization.
Test your defense to know how secure you are…