Back to all Events
CybHer Clash Women's Day Hackathon
Here is what we believe - #SheCanHack! CSW brings to you a 24-hour female-empowerment hackathon, an opportunity for women to explore, experience, and empower themselves in the field of cybersecurity. Here is your chance to prove that #SheCanHack. First prize of Rs. 40,000 and Rs. 10,000 for the runner-up. Register today!
Description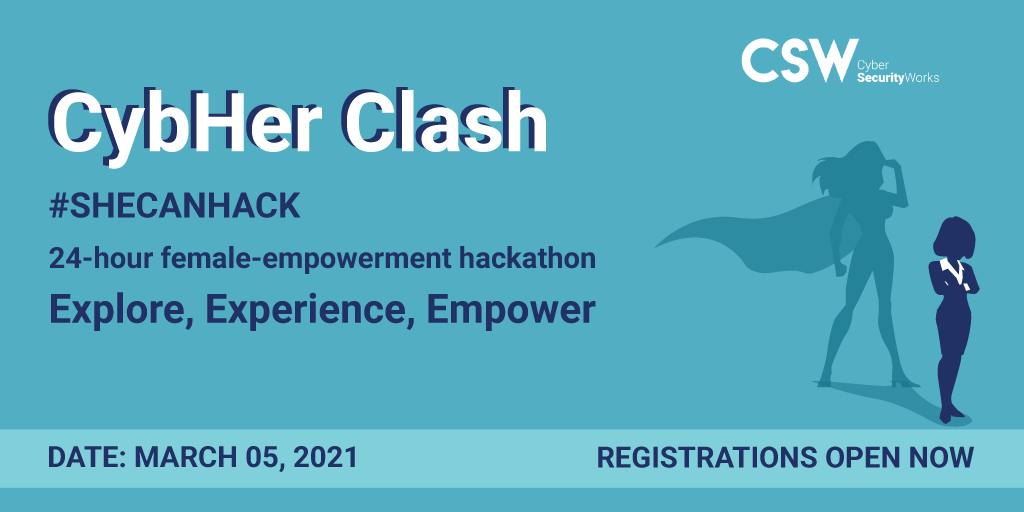 This is a 24-hour female-empowerment hackathon with a specific mission to encourage women in the cybersecurity industry. Our mission is to bridge the gender gap and identify talent amidst all noise. We believe in building a learning environment that is not only thriving but also inclusive.
For more information, check out our FAQ.
Competition Timeline

Open Registrations: February 19, 2021
Close Registrations: February 28, 2021
Round One Qualifier: March 01, 2021
Round Two Qualifier: March 02, 2021
Results: March 03, 2021
Final Hackathon: March 05, 2021
Submission Date: March 06, 2021
Final Results: March 08, 202
Hackathon Tasks

Round one - qualifier
One coding task.
Note: Participating aspirants should know to code using Python
Round two - qualifier
2 boot-to-root tasks in CTF format.
Note: The hackers will have 2 flags to capture
Final Hackathon
Boot-to-root tasks in CTF format.
Reward system
Winner - cash prize 40,000INR
Runner - cash prize 10,000INR

Exemplary performers will stand a chance to work/intern with CSW
Event Type

Hackathon

Title

CybHer Clash Women's Day Hackathon

Date

28 Febraury 2021

Duration

24 Hours

Organizer

Cyber Security Works