Back to all Events
Webinar | Ransomware Spotlight Report 2021
Know more about ransomware trends and gain more insights into what weaknesses the attackers are going after.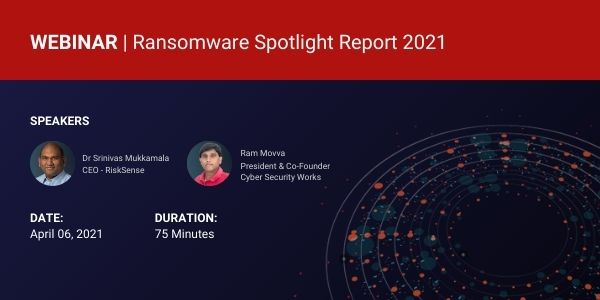 There is a reason why ransomware attacks increased in 2020. We have uncovered 223 vulnerabilities that are tied to these threats and it has quadrupled since 2019.
Join our founders Ram Movva (Cyber Security Works) and Srinivas Mukkamala (Risk Sense) as they present the most surprising findings, trends, and threats that ransomware poses to the world.

Know more about ransomware trends and gain more insights into what weaknesses the attackers are going after.

Event Name: Ransomware Spotlight Report 2021
Speakers: Srinivas Mukkamala & Ram Movva
Duration: 75 Minutes
Event Type

Webinar

Title

Webinar | Ransomware Spotlight Report 2021

Date

April 06, 2021

Duration

75 Minutes

Organizer

CSW