Back to all Events
Flag Runner Hackathon
Hosted by Cyber Security Works, this hackathon is for students and budding professionals in the field of cybersecurity. A 24-hour challenge set up aimed to bring students, professionals, and cybersecurity enthusiasts with various skillsets together and to encourage them to embrace their talent by participating and exploring new challenges.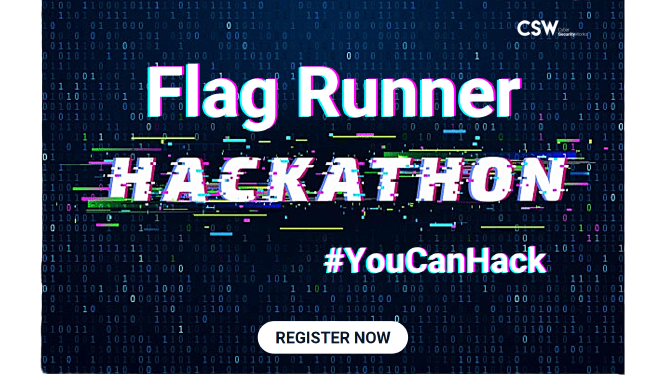 Hackathon Format
Round one - qualifier
1 coding task. Participating aspirants should know to code using Python
Round two- qualifier
2 boot-to-root tasks in CTF format. The hackers will have 2 flags to capture
Final hackathon
Boot-to-root tasks in CTF format.
Reward system:
Winner - cash prize 40,000INR
Runner - cash prize 10,000INR
Exemplary performers will stand a chance to work/intern with CSW
Timeline:
Open registrations: March 10, 2021
Close registrations: March 31, 2021
Round one qualifier: April 01, 2021
Round two qualifier: April 02, 2021
Results: April 03, 2021
Final hackathon: April 05, 2021
Submission date: April 06, 2021
Results: April 08, 2021
General Instructions
Every participant is expected to send a report to the task mentors/jury upon completion of the task
Internal sharing of the flags among teams is strictly prohibited
The teams will be graded for their tasks only after all the team members like and follow CSW on all social media platforms (Linkedin Facebook Twitter Instagram)
The candidates shall discuss the tasks with the mentors only through the appropriate channels assigned in Discord and shall not attempt to establish any other external channel of communication
All teams to submit their final reports in PDF format here
Task mentors/jury's decision will be final.
FAQ:
Who can participate in this hackathon?
Any student pursuing MCA/BCA, computer science and engineering, professional, security enthusiasts, etc enrolled in an undergraduate, or graduate program can participate. Good news? There is no prior experience necessary.
How does this work?​
The candidate registers for the event and takes part in two qualifier rounds. The final hackathon will be a 24-hour challenge set up, the winner of which will be announced on 08 April 2021
Do I need a team?
No, individuals can participate in the tasks.
How do I register?
To participate you will need to fill out the registration form with all necessary details. Once you register, you will receive a confirmation email from CSW.
What are the steps ahead?
All registering candidates will take up the qualifier round as set by CSW. We will shortlist the candidates that will make it to the final round.

Event Type

Hackathon

Title

Flag Runner Hackathon

Date

April 01, 2021

Time

8 AM IST

Duration

24 Hours

Organizer

CSW