Cyber Security Works and Zuggand Announce Merger
Posted on Jul 1, 2021 | By Sumeetha Manikandan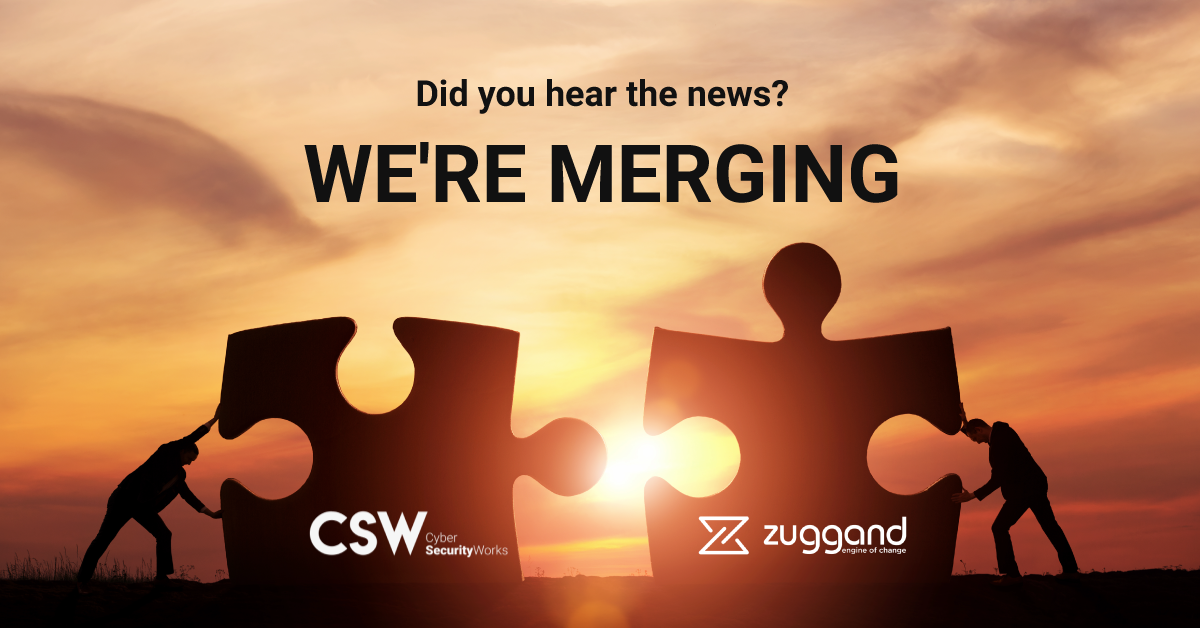 This merger will provide customers with 24x7 Next-Generation Managed Cloud SecOps services for cloud, hybrid, or on-premise environments.
Albuquerque, New Mexico (July 1, 2021)―Today, Cyber Security Works (CSW), a leading provider of Vulnerability Management as a Service (VMaaS) and Penetration Testing services, and Zuggand, Inc. (Zuggand), an Amazon Web Services (AWS) Advanced Consulting Partner, announced a strategic merger of the two companies, creating a global leader in Next-Generation Managed CloudSecOps.
The merged company will be privately held and will operate as Cyber Security Works, headquartered in Albuquerque, New Mexico. Aaron Sandeen, Zuggand's CEO, and co-founder has been named the CEO of the newly merged organization. Phil Manfredi, another co-founder of Zuggand, will take over as the COO.
"I'm excited about the value our customers will get from CSW and Zuggand coming together," said Sandeen. "Leaders need actionable security insights at every layer of their IT operations. We are now perfectly positioned to help them continuously improve their security posture no matter where their infrastructure or applications reside!"
"By bringing together CSW's cybersecurity experience and Zuggand's deep knowledge of cloud technologies, we will now be able to provide our customers continuous monitoring and detection and response capabilities, while also helping them remediate their most critical vulnerabilities," stated Sandeen. "Managed CloudSecOps is the future of security, and we plan to lead the charge."
Ram Movva, Co-founder and Chairman of Cyber Security Works, said, "We are thrilled to see two leading companies in the cybersecurity industry unite to become one entity. With the world moving to the cloud faster than ever, cloud security cannot be an afterthought. CSW's decade-long experience in providing cybersecurity services will now be augmented with Zuggand's cloud security expertise. I am confident that with this merger, our customers will get the best of both worlds―on-premise, cloud, or hybrid.

I am happy to invite Aaron Sandeen as our CEO. Under his leadership, CSW is well-poised to deliver excellent cybersecurity solutions to our customers and help organizations gain resilience against ever-evolving threats."
Kiran Chinnagangannagari, President and co-founder of Zuggand, declared, "The pandemic forced nearly every organization to rethink business processes. There is a massive shift happening in how companies think and use SaaS platforms and cloud services. This shift is creating an entirely different set of opportunities and challenges. Unfortunately, security is not always top of mind when adopting these services.
This newly merged entity will bring rich and deep expertise in cloud and security domains and is uniquely positioned to handle these challenges. I am very excited about the strategic value that this merger will bring to customers!"
CSW and Zuggand have had a long-standing business partnership. This formal merger will only further strengthen their position as a leader in Managed CloudSecOps and provide strategic value to their customers. By joining forces, the merged company will have more than 150 cloud and security professionals and support staff, over 400 customers in more than 15 countries, and an extensive global network of partner companies for its security solutions and services.
_______________________________
About Cyber Security Works
Cyber Security Works (CSW) is a US Department of Homeland Security-sponsored CVE Numbering Authority and a leader in Attack Surface Management.
Our risk, security, and exposure management solutions and compliance services have helped companies, defense entities, and government agencies across diverse industries around the globe to secure their organization from ever-evolving threats. We have boosted the security posture of several governmental entities, including the IT infrastructures for more than 400 public and private organizations and defense establishments in the United States, Middle East, India, and Asia-Pacific.

Our innovation in vulnerability and exploit research led us to discover 49 zero-days in popular technologies, such as Oracle, D-Link, WSO2, Thembay, and Zoho.

For more information, please visit www.cybersecurityworks.com or connect with us on LinkedIn, Twitter, Instagram, or Facebook.
_______________________________
About Zuggand, Inc.
Zuggand, Inc. (Zuggand) is a technology consulting and services firm specializing in Cloud, IoT, and Security and headquartered in Chandler, Arizona. Founded in 2015, we help organizations transform their business using modern digital technologies. With deep knowledge of cloud computing, security, and compliance, we have helped hundreds of customers across the United States and the world, take advantage of the cloud and ensure their assets are protected.
For more information, please visit www.zuggand.com, or connect with us on Facebook, Twitter, or LinkedIn.