Cyber Security Works Brings in Chris Acton as Vice President of Operations
Posted on Jul 16, 2021 | By Sumeetha Manikandan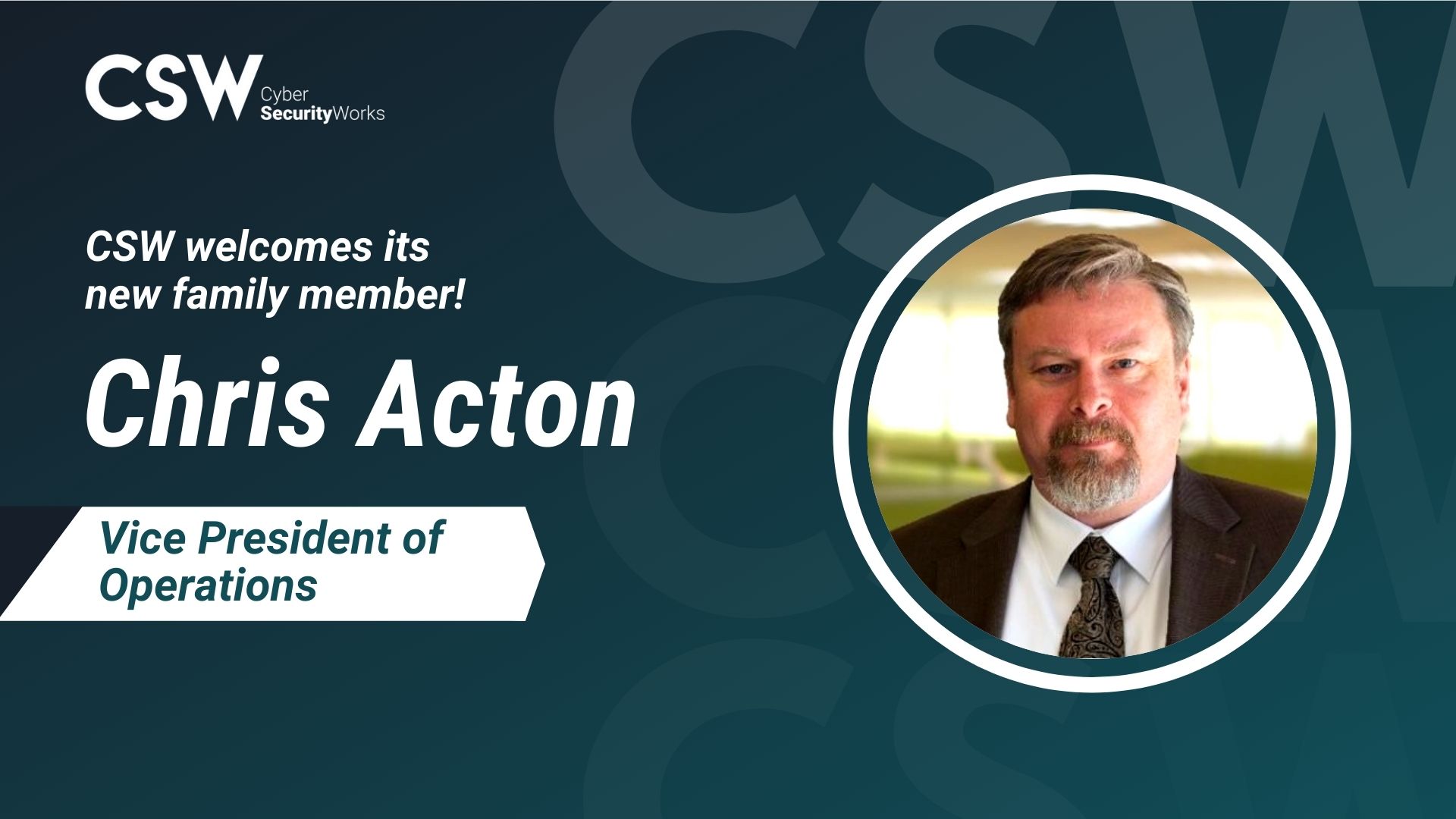 Cyber Security Works (CSW), a leading global provider of Managed CloudSecOps, has just named Chris Acton as its new Vice President of Operations. Acton brings over 25 years of security experience and will oversee CSW's operations and delivery of vulnerability management, penetration testing, and compliance services. Acton will also be joined by six of his long-time team members: Melissa Wooten, Sean Dillon, Dylan Davis, Nathaniel Caroe, Ashton Downing, and Daniel Peterson.
During his 10-year term as Vice President of Security Services at RiskSense, Acton led a team of security experts in conducting more than a thousand successful security engagements for leading organizations in the public, healthcare, automotive, IoT/OT, and financial sectors.
Acton's team also predicted the WannaCry malware campaign and proactively produced tools for customers to detect network susceptibility and test their resiliency against known vulnerabilities. The team was also responsible for the ExtraBacon Metasploit module, SMBLoris, and the first Zerologon exploit. Under his leadership, they developed Koadic, an open-source Windows post-exploitation tool that has been widely adopted by the cybersecurity community.
"Chris' security skills have always been impressive and have only improved since the first time we worked together." said Aaron Sandeen, CEO & Co-founder of Cyber Security Works. "He was responsible for all of our penetration testing while I was the CIO for the State of Arizona. Our customers are going to love what Chris and his team are bringing to CSW!"
As announced recently, CSW has merged with Zuggand, an Amazon Web Services (AWS) Advanced Consulting Partner, and is now positioned as a global market leader in Managed CloudSecOps.
"Our customers have been asking for this!" said Acton. "Security is the top priority for all of our customers. The future is in providing them with continuous vulnerability detection and emerging threat identification, enabling our customers to fully understand their attack surface and prioritize remediation in near real-time."
Ram Movva, the Chairman and Co-founder of Cyber Security Works, said "I have known and worked with Chris Acton for over a decade. He is a consummate problem solver and an impeccable researcher. Under his leadership, CSW is poised to deliver the best security solutions to our customers."
About Chris Acton
Chris Acton has over 25 years of experience in software engineering and application security. With a Bachelor's Degree in Computer Science from the University of New Mexico, Acton has conducted extensive research into critical areas of application security, such as testing scanner deficiencies, crawling strategies, lexical parsing of web attacks, semantic analysis of web content, and behavior changes while under attack. He has led research teams specializing in tool creation, industry conference presentations, attackers and tactics, and zero-day vulnerability discovery to provide marketplace recognition opportunities. He has also helped optimize the day-to-day strategic operations of the departments under his care, providing guidance on efficiency gains and implementing resolutions.

About Cyber Security Works
Cyber Security Works (CSW) is a US Department of Homeland Security-sponsored CVE Numbering Authority and a leader in Attack Surface Management.
Our risk, security, and exposure management solutions and compliance services have helped companies, defense entities, and government agencies across diverse industries around the globe to secure their organization from ever-evolving threats. We have boosted the security posture of several governmental entities, including the IT infrastructures for more than 400 public and private organizations and defense establishments in the United States, Middle East, India, and Asia-Pacific.
Our innovation in vulnerability and exploit research led us to discover 49 zero-days in popular technologies, such as Oracle, TIBCO, D-Link, Netgear, WSO2, Thembay, and Zoho.

For more information, please visit www.cybersecurityworks.com or connect with us on LinkedIn, Twitter, Instagram, or Facebook.