AWS Cloud Security Assessment
A Systematic and Automatic Approach to Cloud Security
Our team of AWS experts performs an in-depth assessment of your AWS environment, provides detailed findings, and assists in prioritizing vulnerabilities to remediate. CSW's Cloud Security Assessment is designed to help you protect and optimize information, systems, data, and other assets hosted on AWS.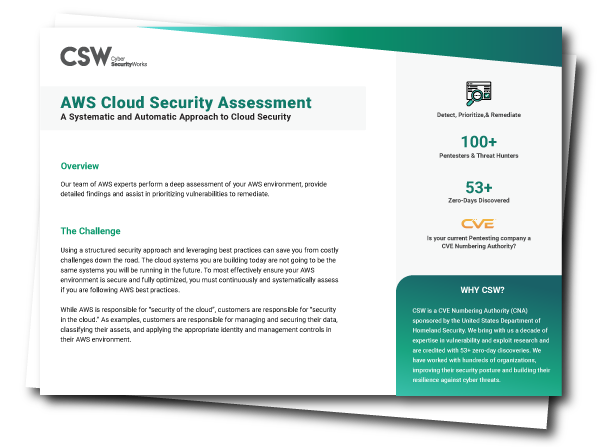 An Overview:
Using a structured security approach and leveraging best practices can save you from costly challenges down the road. The cloud systems you are building today are not going to be the same systems you will be running in the future. To ensure your AWS environment is secure and fully optimized, you must continuously and systematically assess if you are following AWS best practices.
While AWS is responsible for the "security of the cloud," customers are responsible for "security in the cloud." For example, customers are responsible for managing and securing their data, classifying their assets, and applying the appropriate identity and management controls in their AWS environment.